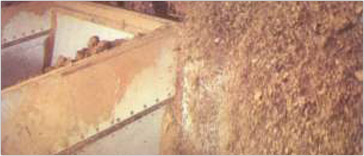 Plascon Sheets can work satisfactorily as Linear material for Hoppers, Silos and Chutes, Anti-sticking character of Plascon prevents any caking or freezing of Silos content on the surface of Silos, Hoppers, separators and similar plants. The major advantage of plscon Lining is easy release and slidablity and, therefore it is obvious that clogging of materials being experienced by you frequently at present may not occur; on the contrary, by deploying Plascon Lining, maintenance of continuous flow will be natural.

PHYSICAL FEATURES :

Density 0.94 gm/cm .
High Molecular weight above 4 Million.
High impact Resistance and flexural strength.
Lighter than water-unique Engineering Plastic.
Good resistance at high as well low (-2690C) temperature.

Non-sticking to foreign material.
Excellent chemical resistance and almost no water absorption.
Free from taste and odour hygienic.
Fine electrical properties.
Easily machinable.

No atmospheric effect.

| | |
| --- | --- |
| | Excellent abrasion resistance (for example, in a test that is widely accepted in the materials, handling industry, samples of various materials are rotated in sand water, slurry and volume losses measured. The Carbon steel was assigned on abrasion loss rating of 100, based on the volume of material lost during the test. Other material in the same test were rated as given in table below. It is to be noted that lower the rating, better the wear properties. |

TABLE WEAR LOSS
UMPWPE
PLASCON
17
ABRASION RESISTANT STEEL
55
STAINLESS SEEL 
84
CARBON STEEL
100
PHOSPHOR BRONZE  
193
NYLON 6-6
31
POLYURETHANE (D-70)
37
HDPE 
86
LOW DENSITY POLYETHYLENE 5
30

THE ABOVE PROPERTIES ENABLE PLASCON TO BE USED AS LINEAR CONVEYOR, IDLER, WHEEL ETC.

CHEMICAL RESITANCE OF PLASCON

| | |
| --- | --- |
| | Workable in Hydrochloric Acid. |
| | Inert to aggressive chemicals. |
| | Corrosion and Erosion resistance. |
| | Fumes, Ash, Dust resistance. |
| | Excellent for use in dilute sulphuric Acid. |
| | Plascon works in High Temperature and in Minus.Temp. in Chemical. |
| | Easy flow of salt, solvent & Powder material. |
| | Very easy movement of Fertilizer, Coal dust, Powder, Chalk, cement etc. |
| | Chocolate, Tobacco, Beet, Pyrite, Grains gets desired material flow. |
| | Does not swell. |
| | |
METHOD OF INSTALLATION OF PLASCON WEAR RESISTANT LINEAR PLATES
PLASCON LINERS CAN BE FITTED TO STEEL OR CONCRETE. BUNKERS , CHUTES, SILOS ETC. THE SURFACE ON WHICH THE LINERS ARE TO BE FITTED MUST BE REASONABLY FLAT AND CLEAN. CORRECT MOUNTING OF PLASCON WEAR LINER CAN ASSURE SATISFACTORY PERFORMANCE. IN CASE LINER PLATES ARE EXPOSED TO SUNLIGHT, BLACK, UV-RESISTANT LINERS SHOULD BE USED. WHILE INSTALLING THE LINERS THE COEFFICIENT OF EXPANSION OF UHMW POLYETHYLENE "PLASCON" MUST BE TAKEN INTO CONSIDE ATION, SINCE IT IS ABOUT 8 TIMES LIGHTER THAN STEEL. AS SUCH IT IS ALWAYS RECOMMENDED TO MOUNT THE LINERS AT THE NORMAL TEMPERATURE OF OPERATION.
THE LINERS ARE NORMALLY LAID LENGTHWISE IN THE DIRECTION OF FLOW OF BULK MATERIAL, EACH PLATE OVERLAPPING THE NEXT ONE BY ABOUT 15 MM HORIZONTALLY. VERTICAL JOINTS ARE PUT EDGE TO EDGE ACCORDING TO THE NECESSITIES, LINERS CAN ALSO BE PUT WITH HORIZONTAL AND VERTICAL JOINTS EDGE TO EDGE BUT STAGGERED WITHOUT ANY PROBLEM. WHENEVER LINING HAS TO BE DONE ON A CURVED SURFACE WITHOUT MANY DIVISIONS; SEVERAL GROOVES ARE MADE ON THE BACKSIDE OF THE LINER TO SUIT THE CORRESPONDING REGION. IN CASE OF PART OF LINING OF BUNKERS, THE UPPER-MOST EDGE OF THE LINER PLATE IS COVERED BY STEEL STRIPS AS SAFEGUARD AGAINST SEEPAGE OF FINE DUSTS. THE HIGH RESISTANCE OF UHMW POLYETHYLENE TO SOLVENTS RESTRICTS THE RANGE OF SUITABLE ADHESIVES FOR GLUING WITH THESE BONDING AGENTS ONLY MODERATE JOINT STRENGTH IS ACHIEVED. THERE FORE, THE LINERS ARE FASTENED WITH MECHANICAL FASTENERS LIKE COUNTER-SUNK BOLT, SCREW, DOWEL ETC. FOR LINING CONCRETE SILOS FASTENING DONE BY MEANS OF COUNTERSUNK BOLT WITH STRADDLING DOWEL. IN THE CASE OF STEEL SILOS LINERS ARE FASTENED BY MEANS OF COUNTER-SUNK HEAD BOLTS WITH NUTS WHEN MOTHER PLATE CAN NOT BE WASTED. THE PITCH BETWEEN THE FASTENERS DEPENDING ON THE THIC NESS OF THE LINER IS MAINTAINED AT 150 TO 200 MM. A DISTANCE OF ABOUT 50 MM IS LEFT FROM THE EDGE OF THE LINER WHILE FIXING THE BOLT.
PLASCON TRUCK/ WAGON LINING

USUAL RECOMMENDED THICKNESS OF LINER IS 15 & 20 MM. IN CRUCIAL CORNER THICKNESS CAN BE INCREASED. PLASCON LINERS ARE AVAILABLE IN THICKNESS UP TO 75 MM AND ABOVE.

PLASCON SPARE PARTS FOR MINING AND METAL PROCESSING INDUSTRIES
BEARINGS
BUCKET CONVEYOR HOUSING FOR CEMENT RAW-MATERIALS,
SALT, GYPSUM, PYRITE, PURPLE ORE, MOULDING SAND, TITANIUM ORE, RAW PHOSPHATE, POTASSIUM CHLORIDE
BUSHINGS, ROUND WITH & WITHOUT COLLAR
CHAIN CONVEYOR WEAR PLATES
CONVEYOR BELT SCRAPPERS, FLIGHT SHOES, GUIDES, IDLERS,
ROLLERS, SKIRT BOARDS, WIPER ROLLERS, WEAR BARS TROUGH LINING
COOLING WATER TROUGHS
COVERS FOR AIR SEPARATORS FOR FINE COAL DUS
EXHAUST NOZZLES
GEARS
IDLERS-SLEEVES, BUSHINGS, ROLLERS
DUCTS, HOODS
PULLEYS
SILOS
SLUICES
SPIRALS
WIPERS AND WIPER PLATES FOR CONVEYOR BELTS AND DISC OR DRUM FILTERS
Excellent polymer for mining and material handling

POLYRIB-ULTRA is specially formulated polymer for bulk material handling in mining, conveying, storage and transportation. Typical problems of bulk material storage like arching, shaft formation, caking and irregular discharge is taken care of POLYRIB - ULTRA because of its good sliding properties and excellent abrasion resistance it outwears stainless steel by almost 2:1 ratio.

MATERIALS HANDLED
COAL AND CHARCOAL
IRON ORE, LIME STORE, SINTERS

COPPER CONCENTRATE
CLAY, KAOLIN CLAY, GYPSUM
CHEMICAL POWDERS, SODA ASH

SALT AND POTASH
SILICA SAND

SOAP DETERGENT
WOOD CHIPS, DUST
ZINC CONCENTRATE
PHOSPHATE
TALC, FLY ASH
BAUXITE, NICKEL ORE
FOUNDRY SAND
GLASS BATCHES
PESTICIDES
GRAINS

CHARACTERISTICS:
OUTSTANDING WEAR RESISTANCE

EXCEPTIONAL CO-EFFICIENT OF  FRICTION
EXCELLENT CHEMICAL RESISTANCE
HIGH IMPACT RESISTANCE
ANTI-STICKING/SLIPPING SURFACE
NO WATER OR MOISTURE ABSORPTION
SELF LUBRICATING
WIDE OPERATING TEMP. (-40°C TO 85°C)
LIGHT WEIGHT FOR EASY INSTALLATION
PROMOTES FLOW OF BULK MATERIAL COMPARED TO STAINLESS STEEL, CARBON STELL ETC.

APPLICATIONS: 
MINING

HOPPER LINER
CHUTE LINER
SCRAPPERS
RECLAIMER BUCKET LINER
DRY LINE BUCKET LINER
FRONT END LOADER BUCKET
SHOVEL LINERS
BUNKERS

STORAGE, TRANSPORTATION AND CONVEYING
RECLAIM HOPPERS

TRUCK DUMP HOPPERS

RAIL DUMP HOPPERS

VIBRATORY FEEDERS

HOPPERS

DOZER BLADE LINERS

SILOS, BINS, BUNKERS

SLIDER BEDS

SKIRTING
BELT SCRAPERS

CYCLONE
TECHNICAL DATA
Property
Test Method
Unit
Polyrib ultra
Polyrib ultra super slide
Polyrib ultra 005
Density
ISO 1183
g/cm3
0.93
0.93
0.94
Molecular weight
-
Mil/mol
>5
>9
>0.5
Tensile Strength
ISO 527-1
Mpa
>17
>17
>20
Breaking Strength
ISO 527-1
Mpa
>35
>35
>30
Elongation at Break
ISO 527-1
%
>350
>300
>200
Modulus of elasticity
ISO 527-1
Mpa
-
680
>1060
Impact Strength 15° V Notch
ISO 179
Kj/m2
>210
>130
>25
Shore Hardness D 15 s
ISO 868
-
62
63
65
Wear Resistance by sand slurry method
Internal test method
-
100
70
250
Sheet Size:
Width
Length
Thickness
1230
2150
20-75 mm
1230
1990
08-175 mm
1000
2000
06-50 mm
660
2520
20-100 mm

WEAR LOSS:

    Rods:
Dia
10 mm to 200 mm
Standard Length
1 metre
Special length and colour available on request.